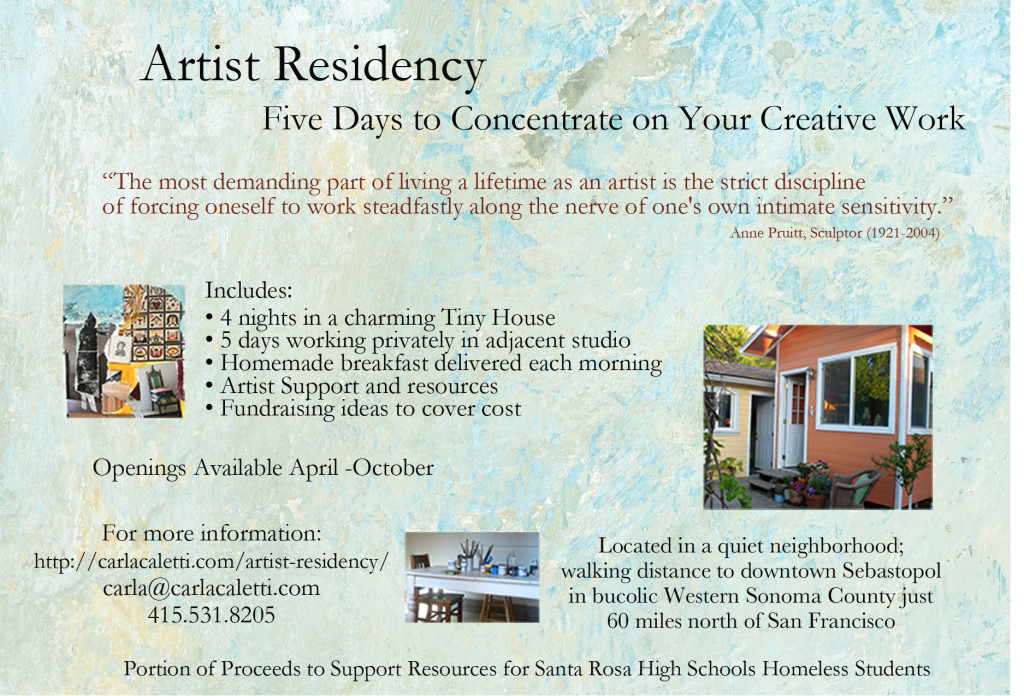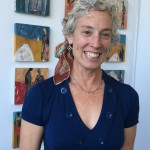 Carla Caletti is an artist and teacher living and working in Western Sonoma County and San Francisco. After having the experience of hosting guests through Airbnb in her tiny house cottage,  Carla is inspired to offer an opportunity specifically for artists and writers to stay in the cottage and work in the art studio, on their own creative projects. As any creative artist  knows, the possibility of immersing into one's work with singular focus — to be able to escape the distractions of every day life– is utterly necessary. As a resourceful, self-taught artist who herself has participated annually in a residency program in northern New Mexico, Carla is skilled at and enjoys supporting artists in this kind of process. She has become adept at taking what she has learned from her time in New Mexico in creating retreats for herself. Now she is ready to share some of the skills and techniques that have served her in her own practice.
This residency is for those who are committed to their own artistic practice, and are seeking a focused and supportive environment in which to continue to grow their work. 
"Picture yourself beginning your day. Waking up in very own your dreamy, cozy cottage, birds chirping outside. Warm muffins, fresh seasonal fruit and hot coffee await you as you begin your day. You carry your steaming mug out the door, take a breath of fresh air, smell the sweet scent of blossom, and slip into your studio, where you spend the rest of the morning immersed in your work. After lunch, your host Carla comes as prearranged, to help you review what you have done, process any questions that have come up and support you in continuing to go deeper into your own investigation. Time to take a nap, think, read and write and then back into your studio work into the evening before a stroll downtown for a bit of dinner or a swim at the local salt water pool".